Most Houston homeowners would agree – no granite countertop is complete without edges. In fact, whether natural or manufactured stone, the high-end look of an edged countertop can't be surpassed. This "finishing touch" on a beautiful slab is completely worth the small investment.
Types of Granite Countertop Edges
Many looks can be achieved in flat polish, beveled, bullnose, OG, full round and waterfall. Each piece can match the color and patterns in your granite slab. Best of all, you can choose which option is right for you.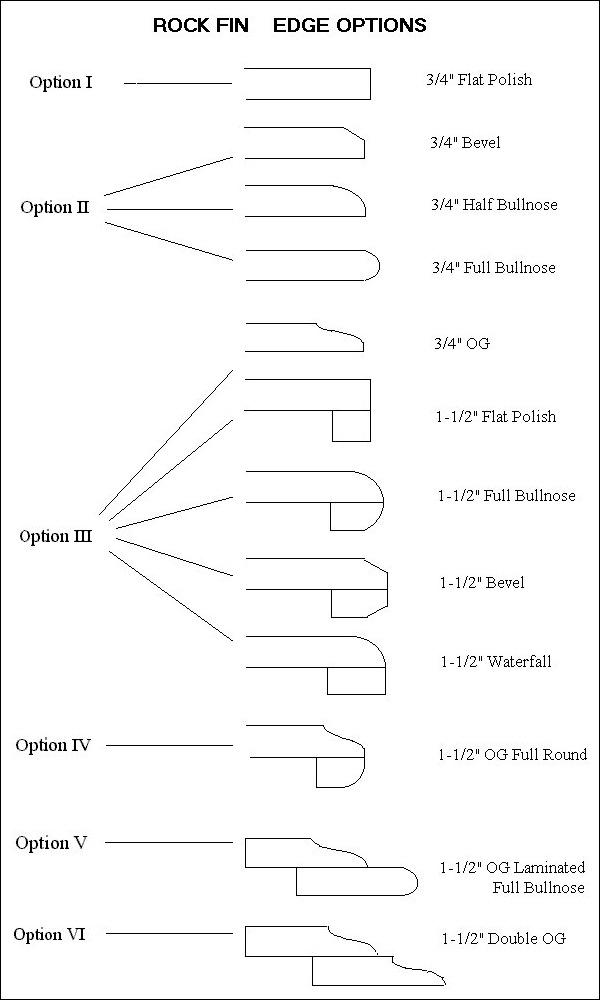 What are the differences?
For tips and information on measuring granite countertops, please refer to our diagram above. It indicates styles and thickness of granite countertop edges! Six options all have differences including shape, slope, functionality, look and price. With 150 varieties of natural stone from which to choose, you are certain to pick a faorite. Whether granite, marble, limestone, slate or travertine, you will be thrilled with the richness and vibrancy of stone. Check out the selection!
Granite Countertops and Edges Since 1996
Our vision began in 1996, and 25,000 homeowners later we are committed now, more than ever, to provide you with beautiful granite, marble or Silestone choices. Remember, a kitchen or bath remodel can make a world of difference!
Contact us today!